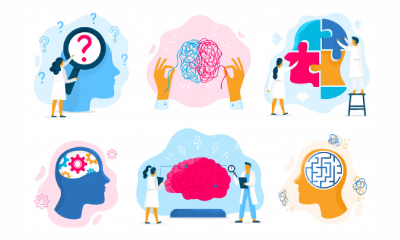 ***16 Courses Bundle | Free PDF Certificates | Unlimited Free Retake Exam***
This Psychology Training Course is designed to equip learners looking for a pathway into a career in psychology with the core knowledge and  skills needed to work in this field. It provides practical and theoretical knowledge of psychotherapy, child and adult counselling, forensic psychology, and other types of therapy, all in an ultimate 16-course package.
You'll explore key theories, models and approaches to different types of psychology, learning how to conduct your first therapy session, treat individuals suffering from bereavement, investigate crime scenes, support individuals through rehabilitation, support the elderly, and much more. On successful completion, you'll receive an accredited qualification, which can be used to fast-track your career in counseling or psychotherapy, as well as related social work and health care roles.
Please note that this Psychology Online course does not entitle you to join the HCPC register or recognized as Practitioner Psychologists. Through this course you will come across all the basic guidelines of Psychology to boost and shine your knowledge in this particular field of Psychology and it will add your CPD points.
Sneak Peek of The Psychology Online Course
Who Should Take The Psychology Training Course
This comprehensive Psychology Training Course is ideal for individuals associated with the food sector, such as:  
Psychologist
Child Psychologist
CBT Therapist
Child & Adult Therapist
Counsellor
Once you've successfully completed your Psychology Training Course, you will immediately be sent a digital certificate. Also, you can have your printed certificate delivered by post (shipping cost £3.99). All of our courses are fully accredited, providing you with up-to-date skills and knowledge and helping you to become more competent and effective in your chosen field. Our certifications have no expiry dates, although we do recommend that you renew them every 12 months.
By the end of this comprehensive Psychology Training Course, learners will be able to:
At the end of the Psychology Online Course, there will be an online assessment, which you will need to pass to complete the course. Answers are marked instantly and automatically, allowing you to know straight away whether you have passed. If you haven't, there's no limit on the number of times you can take the final exam. All this is included in the one-time fee you paid for the course itself.
Advanced Diploma in Psychology
The Advanced Psychology Level 4 course is designed to provide essential information on the fundamental theories of psychology for psychology students and aspiring professionals. It covers a range of cognitive approaches to treating mental health issues such as depression, including the models, concepts and applications of advanced psychology.
Child Psychology Diploma
Deepen your understanding of the common psychological issues that can develop in childhood, including their causes, symptoms and treatment. You will gain practical and theoretical knowledge of child psychology and common psychological issues in children, introducing you to fundamental counselling theories, models and approaches.
Psychology of Old Age
This comprehensive course is ideal for health and social care workers, exploring the fundamentals of gerontology and the stages of old age. You'll also learn about how ageing affects people as well as the stereotypes and stigma surrounding old age. Deepen your understanding of dementia, Alzheimer's memory loss and other age-related diseases.
Psychology of Motivation
If you're considering starting your own business, then it's important to stay motivated when faced with obstacles and challenges. In this course, you will learn expert strategies for staying focused and driven, developing a mindset for success that will help you go above and beyond achieving your goals.
Forensic Psychology
Learn how crime scene investigations are carried out and understand the psychology of the criminal mind, with this comprehensive Forensic Psychology course. In this course, you will gain practical and theoretical knowledge of the field of forensics, covering the theories of violent offending, psychological research, criminal profiling, eye-witness testimonies, and much more.
Mental Health Awareness
This course is designed to raise awareness of mental health covering the different types of common mental health issues, their symptoms, diagnosis and treatment. It includes the different models of mental health, providing learners with different approaches to mental health disorders that can be applied in a real-life context.
Child & Adolescents Counselling
This course is ideal for those looking to work as a Child Counsellor, or those who work with children in a teaching, health and social care setting. It covers the psychology of growth & development, therapeutic outcomes, and professional skills and requirements.
Depression Counselling Diploma
Depression is the most common mental health disorder in the UK, with as many as 1 in 4 people experiencing a mental health issue each year. This course teaches all the skills required to become a successful Depression Counsellor, covering the signs and causes of depression, including bipolar disorder, bereavement grief and creativity depression.
Bereavement & Grief Counselling
Everyone experiences grief differently, in their own personal way, but often we need the help of an experienced professional to get us through dark times. In this Bereavement & Grief Counselling course, you will learn about the stages of bereavement, exploring the role of a Bereavement Counsellor in detail.
Introduction to Psychotherapy
Learn the fundamentals of psychotherapy and take steps to start your own psychotherapy business, with this introductory training course. This course provides practical and theoretical knowledge of different types of psychotherapy, with guidance on how to conduct your first psychotherapy session.
Cognitive Behavioural Therapy
Expand your career opportunities and prepare for your career in counselling, with this CBT training course. In this course, you'll gain an in-depth understanding of the CBT model, with essential information on how to treat the different types of eating disorders and the cognitive factors that impact mental health.
Occupational Therapy
Learn how to support ill, injured or disabled individuals in carrying out everyday activities, with this Occupational Therapy Course. This course provides essential information on rehabilitation, the blood and immune system, and Maslow's Hierarchy of needs. It also explores career path, opportunities and professional development in this industry.
Dialectical Behavioural Therapy
Gain the skills and knowledge to treat borderline personality disorder and kickstart your career in psychotherapy, with this DBT training course. This course includes case studies and theoretical knowledge that can be applied in a real-life context, covering key topics such as DBT life skills, treatment and diagnosis.
Speech & Language Therapy
The Speech and Language Therapy course is designed to provide an in-depth understanding of the different speech disorders and language issues that both children and adults face, with an introduction to the anatomy and science of speech. It covers literacy and language development, and the characteristics of speech.
Psychotherapist Training
This training course is a complete introduction to psychotherapy, ideal for aspiring professionals looking to learn more about psychotherapy approaches and schools of thought. It covers the therapeutic relationship, types and forms of psychotherapy, and a wide range of common mental health conditions.