This Online PAT Testing Course / Portable Appliance Testing Training Course is designed to help you familiarise yourself with testing technical appliances, while training you to know how to assess and minimise risks, carry out inspections and understand the safety procedures that need to be in place when using portable appliances at work.
Portable appliance testing equipment is found in the majority of workplaces across the UK. To prevent workplace hazards such as electrical fires and electrical shocks, it's important that managers and responsible employees are aware of how to perform maintenance check-ups. Learn all about PAT Testing in the UK with this PAT testing course online with a free certificate.
This course is suitable for employers and employees in low-risk workplaces, such as shops or offices, who are responsible for ensuring workplace health and safety. No previous training is required for this course, which can be accessed online from any device.
Last audited and updated on: 5th October 2023
Skill Value in United Kingdom in 2023
£24,600 Average Salary, Up to £32,000/yr for this skill according to top UK career sites.
Sneak Peek of the Online PAT Testing Course
PAT Testing Course Online Demo
Who should take this Online PAT Testing Course
Under the 1989 Electricity Rules, any electrical device that can cause damage needs to be safely maintained. Portable Appliance Testing is a reliable way to ensure this. PAT Testers need to know the types of damage they might find at work and be trained on how to test correctly. They must also know their tools well to ensure consistent results and avoid damaging items.
This technical course is primarily for individuals who are responsible for shared electrical appliances. This would include people like;
Electricians
Property Owners
Maintenance staff
Facility management staff
Shop Owners
Every PAT testing tool is different. It's important for students to read the manual for their specific tool before using it. We strive to provide accurate information in the course, yet we aren't liable for loss to individuals or damage to equipment due to its application or understanding.
Why take this Online PAT Testing Course in the UK?
The primary motive behind carrying out a PAT test lies in ensuring safety. It is crucial to maintain the safety benchmarks for electrical devices within your establishments. Given the rising presence of counterfeit electrical goods in today's market, verifying the authenticity and safety of your electrical items is essential. After acquiring any new electrical item, it's recommended to undertake a PAT test and subsequently at regular intervals to monitor any potential wear and assess adherence to safety protocols.
Signing up for this online course enables you to learn at your convenience and at your own pace. Regular updates, reflecting the latest industry standards, help you to stay up to date with the latest electrical safety practices. The demand for portable appliance testing skills increases job opportunities in this field. In addition, the certification broadens one's understanding of electrical safety. This is why learning PAT testing is a valuable skill, beneficial both personally and professionally.
By the end of the PAT testing online course, learners will be able to readily demonstrate that they can:
Career prospects and job opportunities for Qualified PAT Testers
Completing a PAT testing course equips individuals with a specialized skill set that is crucial in ensuring the safety and compliance of electrical appliances within the UK. As PAT testing is an important requirement for landlords and businesses to ensure the safety of electrical appliances, qualified testers are in consistent demand. The demand for this expertise is multifaceted, given the diverse sectors and scenarios where electrical safety is paramount.
In conclusion, a qualification in PAT testing not only offers immediate job prospects, but can also be a foundation for a diverse and evolving career within the electrical safety sector. The consistent demand for ensuring the safety of electrical appliances in various industries ensures that PAT testers will remain an indispensable asset in the UK's job market.
Once you've successfully completed your portable appliance training course, including the assessment test, we will immediately send you a digital certificate. Also, you can have your printed certificate delivered by post (shipping cost £3.99). Our certifications have no expiry dates, although we still recommend that you renew them every 12 months.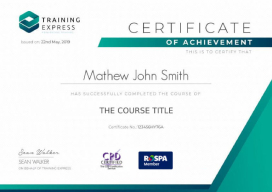 At the end of the course, there will be an online assessment, which you will need to pass to complete the course. Answers are marked instantly and automatically, allowing you to know straight away whether you have passed. If you haven't, there's no limit on the number of times you can take the final exam. All this is included in the one-time fee you paid for the course itself.
Frequently Asked Questions (FAQs) about PAT Testing Course and Certificate
What is this Online PAT Testing Course about?
This Online PAT Testing Course is a comprehensive training program designed to equip individuals with the necessary skills and knowledge to conduct PAT tests on electrical appliances, ensuring they are safe for use.
Who should take this Portable Appliance Testing Training Course?
This course is ideal for facility managers, electricians, health & safety officers, or anyone responsible for the electrical safety in commercial or residential properties. It's also useful for those looking to offer PAT testing as a standalone service.
How long does it take to complete PAT Testing Course Online in the UK?
This Online PAT - Portable Appliance Testing Training Course duration is almost 5 hours. However you can do it on your own schedule and take however long you might need. 
How much do the PAT testers make in the UK?
Do I need any prior electrical experience?
No, the course is designed for both beginners and those with some prior electrical knowledge. We cover the basics and then delve into the specifics of PAT testing.
What equipment or software do I need to participate?
A stable internet connection, a modern browser, and a device like a computer, tablet, or smartphone are typically all you need.
Can I use this course as a stepping stone to other electrical training?
Absolutely! This course provides foundational knowledge that can be valuable if you decide to pursue further electrical or safety training.
How often is the course content updated?
To ensure compliance with the latest safety regulations and best practices, course content should be reviewed and updated periodically.
Will I receive a certificate after completing this course?
Yes, you will receive a FREE Digital Certificate after completing this PAT Testing Course. 
However, if you want, you can also order the Digital Transcript, Hardcopy Certificate & Transcript.
Ordering page link: https://www.trainingexpress.org.uk/certificate/
Is this PAT Training Online course accredited?
This PAT Testing Online Course is accredited, and Training Express is a member of RoSPA – The Royal Society for the Prevention of Accidents. 
This PAT testing certificate is valid for how long?
Our certifications have no expiry dates, but we recommend renewing them every 12 months.
How do I purchase this course?
1. Click on 'Take This Course' button, and you will be directed to your Cart.
2. You can update the course quantity and remove any unwanted items in the Cart, and after that, click on the 'Checkout' option and enter your billing details.
3. Once the payment is made, you will receive an email with the login credentials, and you can start learning after logging into the portal. 
You can take this course or find any course from the Courses section of our website. 
PAT Testing Course Reviews
Gemma Hutchinson
📍GB
Portable Appliance Testing Level 3 I've used training express for courses of my own and for my team. Easy to use. Inexpensive. Customer service is brilliant.

Will use again soon

Roy Harrison
📍GB
I found the course very informative very clear and concise, each module was clearly laid out and well presented. Very easy to access the course. a good method of confirming each module with a short test, Without this process i wouldnt have passed the exam

David Bone
📍GB
I completed the PAT testing course and found the materials easy to following and very informative. The course is well structured anad allows you to follow your own timelines. I had to use the support and this was fantastic.