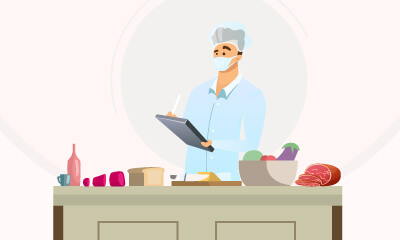 Food Hygiene and Safety Level 3
This Food Hygiene and Safety Level 3 Course is designed to provide catering and hospitality sector professionals in senior-level roles with the skills, credentials and practical knowledge to ensure a high standard of food safety and hygiene in the workplace, in compliance with the Food Safety Act 1990.
All catering professionals must be trained in food hygiene and safety with a solid understanding of the risks and hazards involved in preparing and serving food. In this comprehensive course, learners will understand food hygiene best practice procedures in-depth. In addition, they will develop the skills to ensure their business achieves a five-star outstanding national hygiene food rating.
You will learn how to supervise food safety to effectively train your staff, implement and monitor an effective food safety management system. As a result, you can minimises the risk of food hazards, control contamination, maintain an excellent standard of personal hygiene, and much more.
Last audited and updated on: 23rd October 2023
Skill Value in United Kingdom in 2023
£28,900 Average Salary, Up to £43,700/yr for this skill according to top UK career sites.
Who Should Take This Course
This advanced Food Hygiene and Safety Level 3 Course is ideal for those in management roles who are responsible for supervising and training staff on food hygiene and safety standards, such as:
Catering Manager
Food Safety Manager
Head Chef
Health & Safety Advisor
Restaurant Manager
Senior food retailers
Catering Manager
Restaurant and Café owners
Kitchen Managers
Supervisory food handlers
Supervisors or Managers of fast-food outlets and takeaways
Once you've successfully completed your Level 3 Food Hygiene and Safety Course, you will immediately be sent a digital certificate. Also, you can have your printed certificate delivered by post (shipping cost £3.99). All of our courses are fully accredited, providing you with up-to-date skills and knowledge and helping you to become more competent and effective in your chosen field. Our certifications have no expiry dates, although we do recommend that you renew them every 12 months.
By the end of the Food Hygiene and Safety Level 3 course, learners will be able to
Assessment of Level 3 Food Hygiene
At the end of the course, there will be an online assessment, which you will need to pass to complete the course. Answers are marked instantly and automatically, allowing you to know straight away whether you have passed. If you haven't, there's no limit on the number of times you can take the final exam. All this is included in the one-time fee you paid for the course itself.
Yes, you can access the course through any smart device with Internet connection.
This course is designed with easy-to-follow and engaging video lessons.
After you successfully complete the course, you will immediately be sent a digital certificate. Also, you can have your printed certificate delivered by post in that case the shipping cost £3.99 will be added.