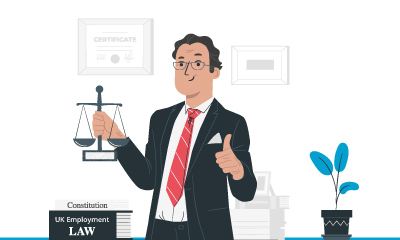 The UK Employment Law course is designed to provide learners with an in-depth understanding of the basics of employment law. During this course, you will learn the role of an employment lawyer and the rights of both employees and employers. Additionally, it covers the different types of employment contracts, the legal recruitment process and the employee handbook in detail.
UK employment law refers to the relationship between employer and employee and involves many different areas, from sick pay to wage rights. In this comprehensive training course, you will explore the legal responsibilities of both employers and employees in various situations, as well as what should be included in every organisation's employee handbook.
Above all, case studies and practical exercises will give you an insight into key topics such as how to handle discrimination in the workplace, disciplinary procedures, and data protection principles. So, fast track your career with an accredited qualification and get certified in just 20/30 hours.
Who should take the UK employment law course
This comprehensive training course is suitable for aspiring professionals looking to fast track their career in the UK employment law sector, as well as existing professionals who are new to the field and wish to update their existing skills and knowledge. Professions in this field include:
Employment Lawyer

Employment Solicitor

Employment Legal Counsel

Paralegal
Once you've successfully completed your course, you will immediately receive a digital certificate. Also, you can have your printed certificate delivered by post (shipping cost £3.99). All of our courses are fully accredited, providing you with up-to-date skills and knowledge and helping you to become more competent and effective in your chosen field. Our certifications have no expiry dates, although we do recommend that you renew them every 12 months.
Learning outcomes of UK employment law course
By the end of the course, learners will be able to:
At the end of the course, there will be an online assessment, which you will need to pass to complete the course. Answers are marked instantly and automatically, allowing you to know straight away whether you have passed. If you haven't, there's no limit on the number of times you can take the final exam. All this is included in the one-time fee you paid for the course itself.