Overview of GDPR Training Course
The EU General Data Protection Regulation (GDPR) is the most important update in data privacy regulation in 20 years. Having added more responsibilities to the Data Protection Act 1998, on the 25th May 2018, it is mandatory that all businesses that handle personal data must be aware of the new rules so that they are in compliance with the law. GDPR Training Course ensures you are well aware and of
In this GDPR Training Course, you'll be introduced to the new rules of privacy regulation, the key changes that have been introduced and data controller and processor obligations. You'll also be trained on processing sensitive personal data and data protection terminology.
This course is for anyone who has the obligation to implement changes brought about by new GDPR legislation and the Data Protection Act, who may work for services that hold personal data. By the end of the course, you'll have an understanding of what is expected of businesses in relation to handling data security, so that you can implement GDPR compliance strategy for your firm.
Last audited and updated on: 21st October 2023
Skill Value in United Kingdom in 2023
£33,900 Average Salary, Up to £57,400/yr for this skill according to top UK career sites.
Sneak Peek from GDPR Training Course
Who should take the course
The GDPR Training course is suitable for professionals who are responsible for handling sensitive personal data as part of their day to day role, as well as business owners who want to ensure that their organisation is compliant. The course is open to anyone who wishes to gain up-to-date knowledge of GDPR and its new legislation. There are no entry requirements for this course, which can be studied on a full-time or part-time basis.
Once you've successfully completed your course, you will immediately be sent a digital certificate. Also, you can have your printed certificate delivered by post (shipping cost £3.99). All of our courses are fully accredited, providing you with up-to-date skills and knowledge and helping you to become more competent and effective in your chosen field. Our certifications have no expiry dates, although we do recommend that you renew them every 12 months.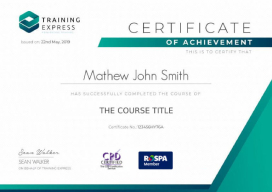 By the end of the course learners will be able to demonstrate that they can:
At the end of the course, there will be an online assessment, which you will need to pass to complete the course. Answers are marked instantly and automatically, allowing you to know straight away whether you have passed. If you haven't, there's no limit on the number of times you can take the final exam. All this is included in the one-time fee you paid for the course itself.
Will I receive a certificate after completing this course?
Yes, you will receive a free Digital Certificate after completing first aid training. However, if you want, you can also order the Digital Transcript, Hardcopy Certificate & Transcript.
Ordering page link: https://www.trainingexpress.org.uk/certificate/
Is the GDPR Training Course certificate recognised by employers?
This course comes with a CPD-accredited certificate that is recognised by employers all over the UK. It will give you a competitive edge in recruitment, hiring and promotion.
GDPR Training Course certificate is valid for how long?
Our certifications have no expiry dates, but we recommend renewing them every 12 months.
Can I do the courses using a mobile phone?
Our courses are conducted online, and you can access them using any internet-connected smart device.
How long does it take to complete GDPR Training Course in the UK?
GDPR Training Course duration is 3 hours and 19 minutes. But you can do it on your own schedule and take however long you might need. 
How do I purchase this course?
Find the right course on our website. You can take this course or find any course from the

Courses

 section of our website.
  2. Click on 'Take This Course' button, and you will be directed to your Cart.
  3. You can update the course quantity and remove any unwanted items in the Cart, and after that, click on the 'Checkout' option and enter your billing details.
  4. Once the payment is made, you will receive an email with the login credentials, and you can start learning after logging into the portal. 
Skill Value in United Kingdom in 2023
£28,900 Average Salary, Up to £43,700/yr for this skill according to top UK career sites.