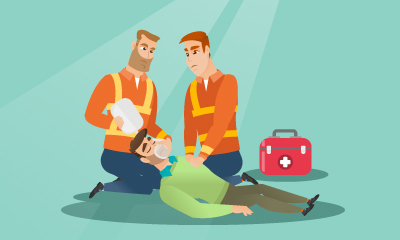 Knowing the basics of first aid is an essential skill to have, whether you're in a workplace environment or at home. It could be a case of saving someone's life, so it's never too late to train. This First Aid course is designed to introduce you to the fundamentals and advanced aspects of first aid, from how to act in potentially life-threatening situations, to conducting a head-to-toe check on someone who has sustained an injury. 
This First Aid course applies to everyone and includes expert audiovisual tutorials, easy to follow modules and practical advice for low-risk work settings such as offices, restaurants and shops. Key topics include first aid boxes, the recovery position, administering CPR and treating secondary illnesses such as asthma and allergies. Through case studies and practical exercises, you will learn about the role and responsibilities of a first aider, exploring the contents of the first aid kit in detail. Our experienced instructor will take you through procedures and best practice for dealing with a range of minor, major injuries. In this course, you'll learn not only the first aid techniques for adults but also how to adapt and employ basic first aid techniques for a child or baby.
By the end of this course, you will have excellent practical and theoretical knowledge, with the ability to take control in the case of any first aid emergency. Also, you'll receive a CPD accredited as proof of your new skills, with the confidence to apply the correct safety measures for your business or workplace.
Last audited and updated on: 15th October 2023
Skill Value in United Kingdom in 2023
£26,600 Average Salary, Up to £37,500/yr for this skill according to top UK career sites.
Who should take the course
This First Aid training course applies to, but is not limited to, those in the following professions:
Office Workers

Self-Employed workers

Casual Workers    

Workers in warehouses or factories

Childminders

Nursery and pre-school workers

Leisure facility staff

Teachers

Sports Coach

PE Teacher

Athlete

Personal Trainer

Gym staff

Anyone wishing to start First Aid training
Once you've successfully completed your First Aid course, you will immediately be sent a digital certificate. Also, you can have your printed certificate delivered by post (shipping cost £3.99). Our certifications have no expiry dates, although we do recommend that you renew them every 12 months.
By the end of the course, learners will be able to:
At the end of the course, there will be an online assessment, which you will need to pass to complete the course. Answers are marked instantly and automatically, allowing you to know straight away whether you have passed. If you haven't, there's no limit on the number of times you can take the final exam. All this is included in the one-time fee you paid for the course itself.
All of our courses are fully accredited. The content of the First Aid course is certified by the CPD Certification Service as conforming to the continuous professional development principles. This course provides you with up-to-date skills and knowledge and helps you to become more competent and effective in your chosen field.